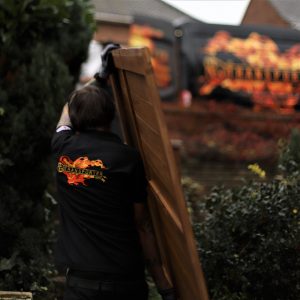 For house moves that need a trusted removal firm in Carbrooke IP25 and the surrounding areas look no further than the Transporter Norwich. we specialise in House moves, office relocation's, men with a van. and we can work any time going anywhere in the UK 24/7.
We are experienced in flat pack assembly and disassembly.
We have padded blankets bungees and ratchet straps to keep your goods safe.
For the quickest response to enquiries please call/text 07914688835
Or message my page www.facebook.com/thetransporternorwich
Moves in Carbrooke with one van are £50 per hour two men.
Moves in Carbrooke with two vans are £75 per hour 2 men, £85 per hour 3 men.
The average 1-2 bed flat in Carbrooke takes 1-4 hours, (one van load)
The average 2-3 bed house in Carbrooke takes 2-6 hours, (one to two van loads)
The average 4-6 bed house in Carbrooke takes 4-12 hours. (one to four van loads)
(minimum charge 4 hours)
Please have a look at our tips for moving section on here for money saving advice.
http://www.thetransporternorwich.co.uk/removal-company/ tips for moving
If your move is long distance and you would like a quick quote?
Text the postcodes and a rough idea of how much you are moving.
Plus access conditions or how long you estimate loading and unloading would take, we will respond as soon as possible.
Prices are all inclusive with no hidden fees.
💳Card or cash payments taken💷
We can recommend the best local storage company units and help you get the most out of them with our tetris superpowers 😉
Compare removal companies in Carbrooke IP25, you will find us to be the most trusted, reliable and fair priced.
is a village and civil parish in the Breckland district of mid-Norfolk, East Anglia, England in the United Kingdom. It is 3 miles (4.8 km) from the centre of Watton, 8 miles (13 km) from Dereham and 17 miles (27 km) from its postal town of Thetford. It has an area of 12.66 km2 (4.89 sq mi) with an estimated population of 1,310 in 2007.[3] The measured population at the Census 2011 was 2,076.
It has a village hall, with plans for a new one, hosting among other things The Village Social Group.
The local church is St Peter & St Paul[4] in the Benefice of Watton.[5]
The local school is St Peter & St Paul VC Primary School.
https://creativecommons.org/licenses/by-sa/3.0/